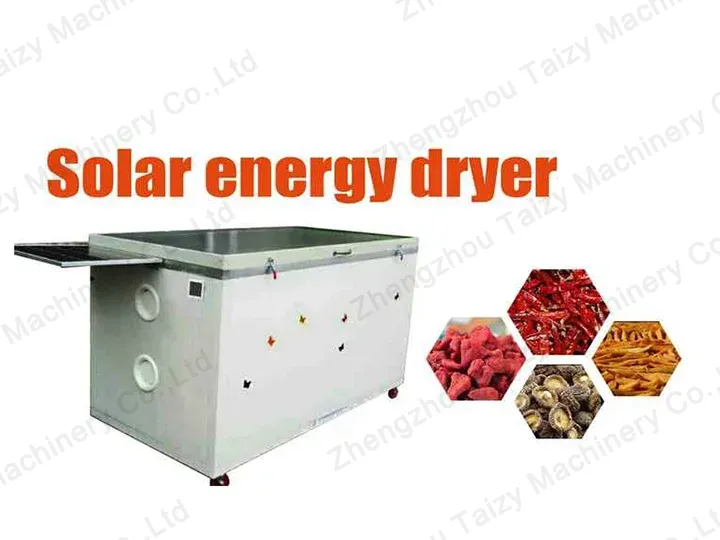 Solar Dryer for Fruits and Vegetables harnesses the power of the sun to gently remove moisture from produce, ensuring long-term preservation while retaining vital nutrients. In this article, we will explore the benefits and features of solar dryers, as well as their applications in food preservation.
The Advantages of Solar Dryer for Fruits and Vegetables
Solar Dryer for Fruits and Vegetables offer numerous advantages over traditional drying methods. By utilizing solar energy, they provide an environmentally friendly alternative that reduces energy consumption and carbon emissions. Furthermore, solar drying helps retain the nutritional value of fruits and vegetables, as it operates at lower temperatures compared to conventional drying methods. This gentle drying process preserves essential vitamins, minerals, and antioxidants, ensuring a healthier end product.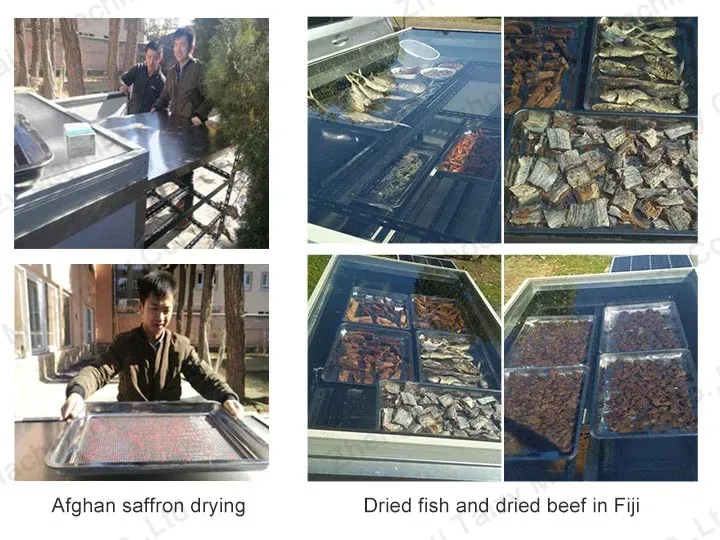 Understanding the Design of Solar Fruit Dryer Machine
Portable and Convenient: The solar fruit dryer is a mobile, box-type drying unit. Its compact design allows for easy transportation, making it suitable for small-scale farmers and gardeners.
Tray-based Stainless Steel Structure: The solar fruit dehydrator's interior features tray-based stainless steel racks. These trays provide ample space for arranging the produce evenly, allowing for efficient airflow and consistent drying. The stainless steel construction ensures durability, hygiene, and easy cleaning.
Maneuverability with Four Wheels: The solar dryer machine for vegetables and fruits is equipped with four sturdy wheels, enabling effortless movement. This feature is particularly advantageous for users who require flexibility in relocating the Solar Dryer for Fruits and Vegetables based on sunlight exposure or storage convenience.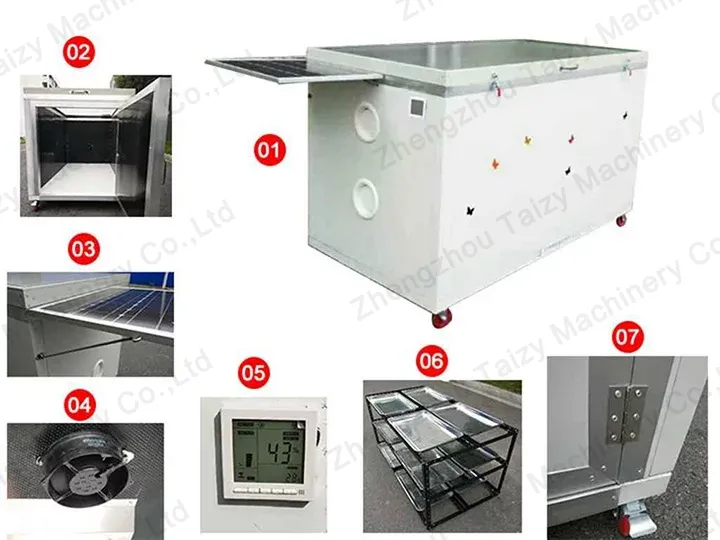 Key Components of Solar Dryers for Fruits and Vegetables
Solar Panels: The solar dryer incorporates solar panels with dimensions of 530x410mm. These panels capture sunlight and convert it into electricity, powering the dryer's operation. By utilizing renewable energy, the Solar Dryer for Fruits and Vegetables minimizes reliance on traditional power sources, making it a sustainable choice.
Exterior Structure: The outer structure of the solar fruit and vegetable dryer is constructed using 5mm galvanized sheet metal. This robust material provides durability and protection against external elements, ensuring the longevity of the device.
Applications of Solar Dryers for Fruits and Vegetables
Home Food Preservation: Solar dryers offer a convenient way for individuals to preserve surplus fruits and vegetables from their gardens. By drying the produce, it can be stored for extended periods, allowing families to enjoy homegrown goodness throughout the year.
Small-Scale Farming: Farmers with limited resources can benefit from solar fruit and vegetable dryers to add value to their produce. Solar drying helps prevent post-harvest losses, extends the shelf life of fruits and vegetables, and opens up opportunities for income generation by selling dried products.
Community Initiatives: Solar Dryer for Fruits and Vegetables can be employed in community projects, empowering local communities to collectively preserve seasonal produce. This promotes self-sufficiency, reduces food waste, and fosters community engagement.
Why Is the Demand for Solar Fruit and Vegetable Dryer Increasing?
In today's fast-paced world, people are increasingly becoming conscious of the food they consume. Fresh fruits and vegetables are an essential part of a healthy diet, but they often spoil quickly if not properly preserved. This is where solar dryers for fruits and vegetables come into play.
Solar dryer for fruits and vegetables are an excellent solution for sustainable food preservation. Their use of solar energy, tray-based stainless steel structure, mobility, and efficient design make them ideal for various applications. By harnessing the power of the sun, these devices contribute to reducing food waste and ensuring the availability of nutritious produce throughout the year. Incorporating solar dryers into our food preservation practices is a step towards a healthier and more sustainable future.